Ipomoea is an interactive aesthetic ecosystem that functions in two ways. First, it serves as a multi-disciplinary installation. Second, it becomes a visually and aurally responsive venue for artists. Invited collaborators will develop new works in dialogue with the existing mythology of the garden. Ipomoea provides opportunities to generate conversation and creativity through interaction with the environment. For example, dancers may create movement in response to a field of flickering blades of grass. Ipomoea embodies a radical new approach to creating contemporary work using an innovative mix of interactive technology, installation art, and theatre.
Ipomoea references and explores the tensions and harmonies between the natural and the artificial, the physical and the virtual, the private and the public. Inspired by the mediated world in which the Millennial Generation are digital natives, Ipomoea mediates contact through the lens of technology but is also dependent on in-person physical relationships. It comments on the proliferation of technology in communication as a distinguishing factor between generations.
Primary Ipomoea artists, known together as Unexpected Collective, include Visual Designer Prof. Rebecca Makus, Google Experience Engineer Elly Jessop Nattinger, and Media Experience Artist Peter Torpey. While collaborating on other projects, we were inspired to create a project that incorporates our unique blend of disciplines in investigating observations of social dynamics.
Stay up to date on the development of Ipomoea by joining the project's Facebook group.
The Artists
A romp of artists known as Unexpected Collective.
Peter A. Torpey, Ph.D.
Peter works at the nexus of theater, interaction design, music, technology, and storytelling. As founder and principal creative at The nth Art, he weaves together his diverse expertise in video production, theatrical design, computer programming, and the visual arts to create interactive media, installation, arts, and performances. Throughout his work, Peter addresses both the technological and control infrastructure needs of complex performances and exhibitions, as well as the design of visual and experiential languages for each project.
Peter works with international and multidisciplinary teams, including theater directors, composers, symphony orchestras, companies, startups, as well as other artists and designers to invent experiences that amplify artistic expression and bring audiences closer to the stories being told. He received his doctorate from the MIT Media Lab, where his contributions were integral to the design and implementation of groundbreaking works that focus on modes of representing expression (Death and the Powers, 2010; Lilith, 2015), massive collaborations (A Toronto Symphony, 2013), and new models of presence in live performance (Remote Theatrical Immersion: Sleep No More, 2012; Powers Live, 2014). He also created Media Scores, a framework for composing multimodal artworks and experiences.
Prof. Rebecca M. K. Makus
Rebecca holds an M.F.A. from the California Institute of the Arts, a B.A. from Smith College, and is an Assistant Professor of Theatre at Kennesaw State University. Her lighting and visual design for dance and theatre includes custom designed and built interactive light objects, transforming alternative performance spaces, creating site-responsive work, and re-imagining traditional venues. She has worked internationally at Lyon Opera Ballet, Opera de Monte Carlo, Tramway, Nuffield Theatre, Edinburgh Fringe Festival, and Sibiu International Theatre Festival. Her international work includes over 15 years of collaboration with Manchester, UK based Proto-type Theatre (Bunny's Last Night in Limbo, Three Ring, Cheap Thrills, Whisper, The Good, The God and The Guillotine, and Virtuoso). She is resident designer for NYC based Bill Young, Colleen Thomas and Dancers (A Place in France, Life In Progress, and For Want) and has also designed for Colleen Thomas Dance (Winning You with Words (this is how we fall)). Rebecca's Atlanta based work includes lighting and/or visual designs for Ivan Pulinkala (Pyromania, Rhizome, Road Kill, Rinpoche, and Cocoon), Lauri Stallings of gloATL (Hippodrome, Vanguard, and I May Just), and a new work with Atlanta Ballet's Artistic Director John McFall (Three).
rebeccamakus.wix.com/wwwrebeccamakuscom
Elly Jessop Nattinger, Ph.D.
Elly is an artist and technologist who believes in the power of integrating new technologies into artistic expression to explore new qualities of experience and tell new stories. Frequently, this takes the form of interactive multimedia systems for live performance, continually exploring how to incorporate technology into performance in essential and powerful ways. Drawing on her background in computer science, choreography, and theatrical design, she completed her doctorate at the MIT Media Lab, where she was a member of the Opera of the Future research group. Her research work has focused on the intersection of performance, gesture, and machine learning to create new tools for analyzing and extending expressive movement and voice. Major projects she has been involved with include the robotic opera Death and the Powers, an online extension of the NYC show Sleep No More, and an interactive vocal installation in Paris. In addition to her independent theatrical work, her primary job is at Google as an Experience Engineer.
The Garden
The Ipomoea garden is composed of several modules: grass, tree, fruit, stone, and water.
Grass
The first of these elements, grass, was developed during a three-week long workshop hosted at Kennesaw State University in July 2015. During that workshop, ten wooden shipping pallets draped with various strings and ropes formed the grass element. Each palette was also equipped with custom electronics to enable the pallets to respond to the interaction of performers and audiences through light and sound. The grass pallets were embedded within a theatrical environment outfitted with additional sensing and responsive light and sound.
In addition to constructing and designing the interactive behaviors of Ipomoea:Grass, this workshop period hosted two invited artists to develop new works with the space. Choreographer Ivan Pulinkala created a short dance work with two members of the Atlanta Ballet, in which the dancers' story wove in and out of the grass in beautiful synergy with the pallets' sensitive behaviours and the space's responsive dynamic lighting. Puppeteer Michael Haverty and his troupe developed scenes from a work in progress that explores the experiences of an autistic child. A video camera inside Haverty's puppet and video processing transformed the Ipomoea landscape into sensorily-rich first-person perspectives, as the puppeteered character dreams and floats through the grass as if sky and sea and inward journey blended.
Tree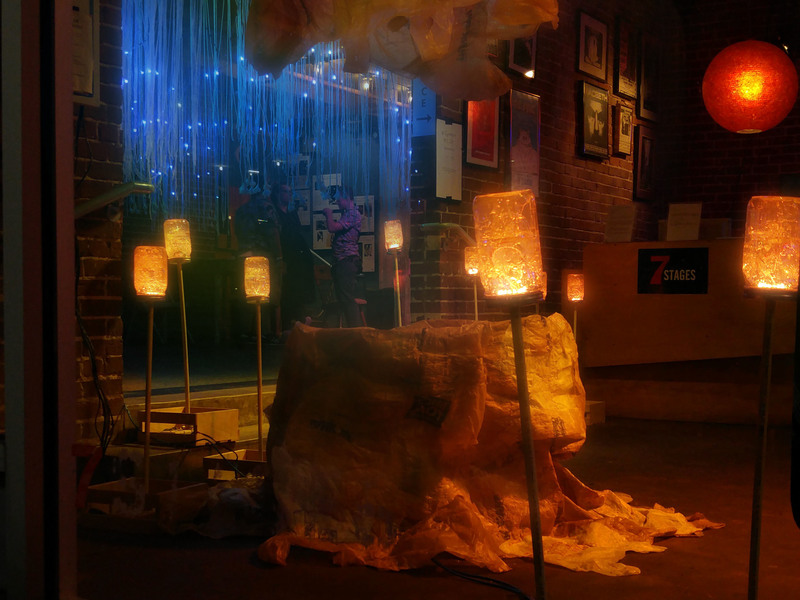 Fruit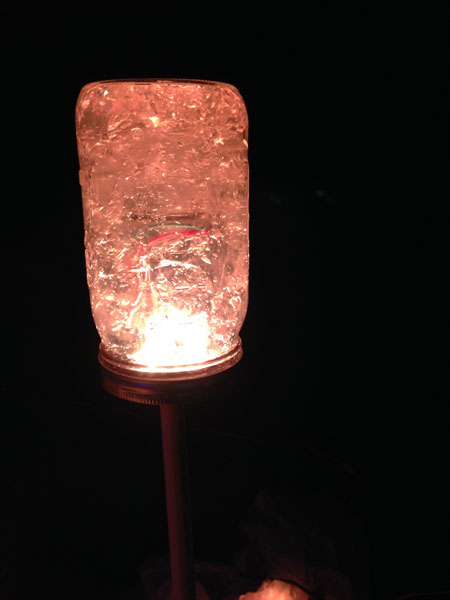 Water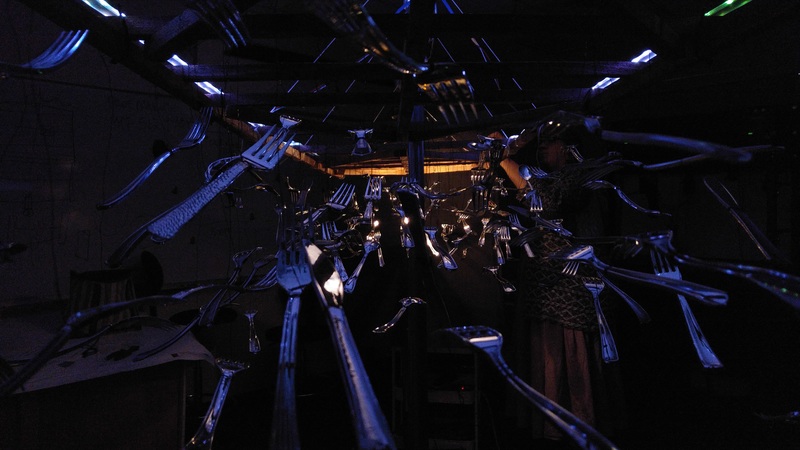 Stone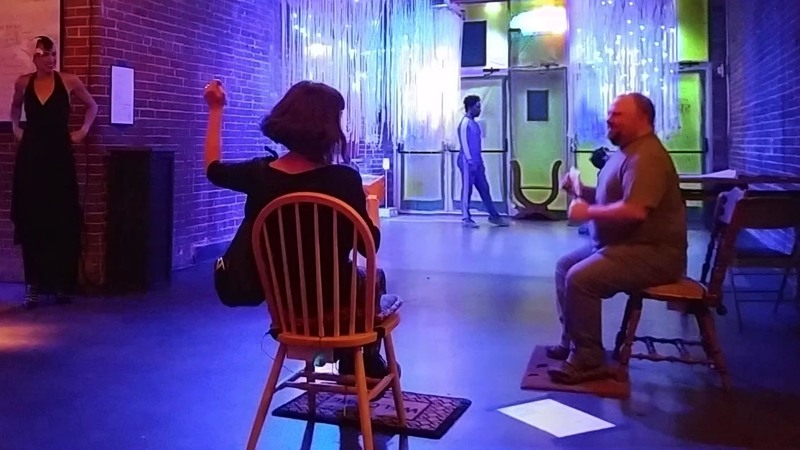 Soul
The Soul component of the installation allows visitors in the garden as well as those remotely to look into the garden's past and see virtual echoes of previous inhabitants.
Preview Ipomoea:Soul in your browser or in 360° on your mobile device.
Ipomoea:Grass

Ipomoea:Tree

Ipomoea:Water

Concept Images

Development
Awards & Press
Press Coverage
This [Ipomoea:Grass] is apparently a preview of larger version that will debut in 2017. It's pretty cool how they transformed simple, everyday materials like wooden pallets, yarn, and LEDs.

Angela Bortone
Wow, Creative Loafing and the Goat Farm really went deep on its Broad Street takeover. People dancing in the rain to DJ Jelly, and discovering a magical forest through a neon gate—I don't even care that I'm being rained on.

Haylee Anne
Awards
NEA Art Works Grant, Presenting and Multidisciplinary Category, 2016
TPS Professional Development Fund, 2016
TPS Onyx Fund, 2016
Incentive Award for Research and Creative Activity, 2015
KSU Office of the Vice President for Pilot/Seed Grant, 2015
TPS Professional Development Fund, 2015
Incentive Award for Research and Creative Activity, 2014
TPS Professional Development Fund, 2014
Ipomoea is an interactive installation: an urban "garden" brought to life through technology. It uses a variety of interactive technologies to embody the liveness of green and growing things: breath, movement, action and reaction. The garden consists of several nature-inspired technological modules including Grass, Tree, Water, and Stone. Other artists perform their creative works in dialogue with the existing story of the garden. Ipomoea embodies a new approach to creating contemporary work using a mix of interactive technology, installation art, and theater: the space becomes a character and a creator.
Stay up to date on the development of Ipomoea by joining the project's Facebook group.